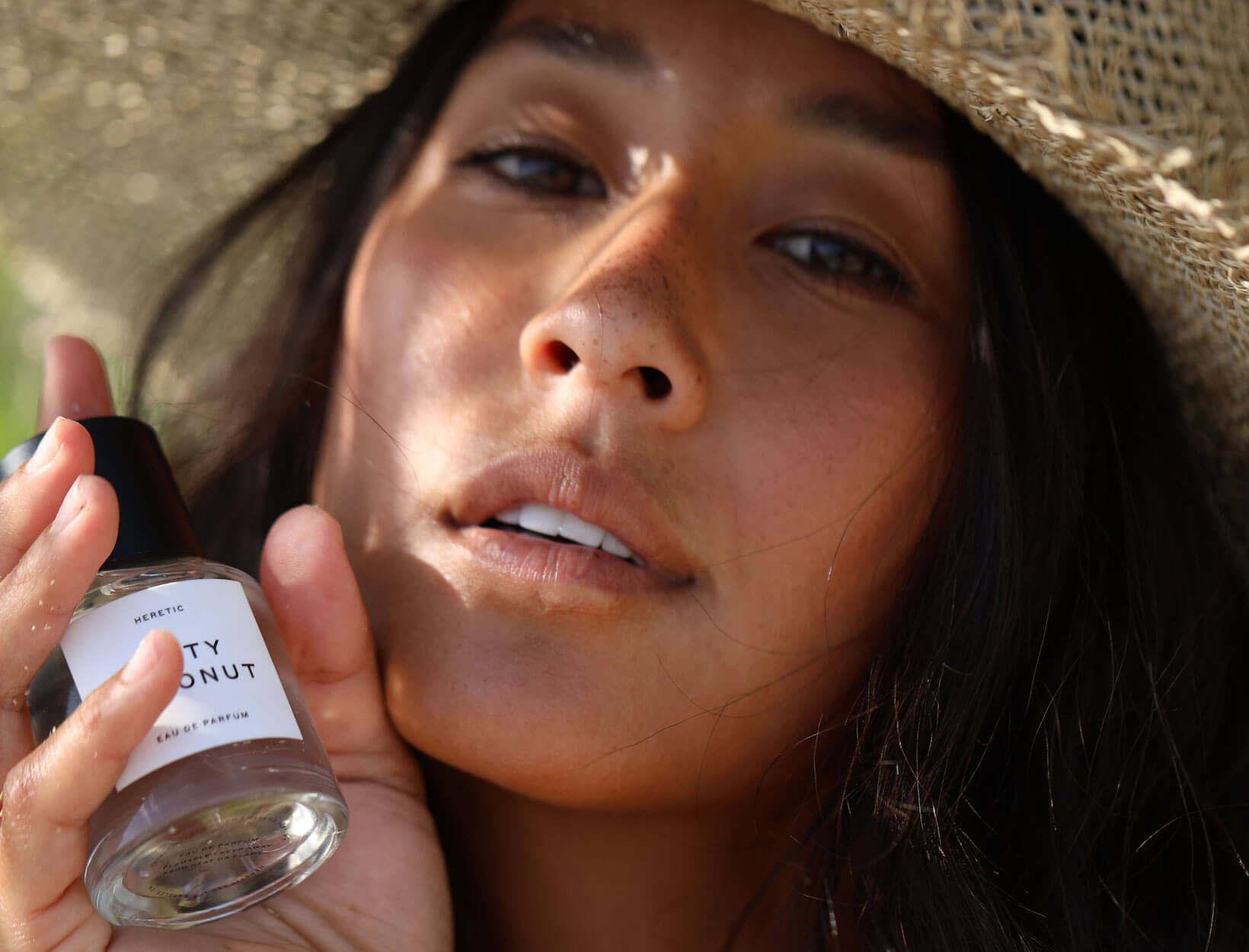 Photo courtesy of Heretic Parfum and Kelia Moniz
A special something that smells incredible—a chic new perfume, the most beautiful candle, or a jasmine-inflected hair oil—makes a memorable, charming, and sophisticated gift. Made clean, without the potentially harmful-to-health hormone disruptors, carcinogens, and irritants allowed in conventional fragrances, every item on our shopping list this year is enchanting enough that we find it hard to resist doing a little shopping for ourselves along the way (hello, Dirty Chai…hi, Shiso…bonjour, Bois de Balincourt).
The Top 5 Makes-the-Best-Present Perfumes
5

Smoky and Sensual

A perfume of cypress smoke, snow, and a sexy sense of quiet.
The Top 3 Smaller-Size (and Easier Priced) Scents
Sexiest Hair Oil on the Planet
Part frizz-smoothing serum, part gorgeous jasmine-inflected hair perfume, this leaves your hair shiny and smelling fantastic.
This Body Wash Smells So Good,
It Qualifies as Perfume
There's nothing like stepping into a hot shower and lathering on this gorgeously scented body wash to transform your shower into a relaxing out-of-body experience. It leaves skin soft, moisturized, and smelling subtly of cedar, sandalwood, and bergamot. And we love the chic, gigantic pump bottle.
Some People Buy This Skin-Loving
Moisturizer Just for the Citrusy Scent
This rich, luxurious, clinically tested supercream for the body leaves skin ultramoisturized, silky-soft, smooth, firm, and toned—and the subtle scent is almost as addictive as the way it makes our skin feel.
These Body Oils Double as Perfume
1

Tropically Floral

One of the prettiest scents ever, this is amazing as body oil but also incredible as a perfume.

Balmyard Beauty Romantic Call Body Oil goop, $82

SHOP NOW

2

Citrusy and Herbaceous

Smooth on this restorative orange-flower-and-acacia-scented oil and it sinks in instantly for supple, plumped skin.

Seed to Skin The Serenity goop, $162

SHOP NOW
The Perfume That Repels Insects
and Attracts People
A silky cedar-cinnamon-and-geranium-scented gel you will love and bugs will hate, from acclaimed clean perfumer Douglas Little.
5 Favorite Scented Candles
A gorgeous lavender scent and a candle that turns into a massage and body oil, this smells (and feels) like heaven.