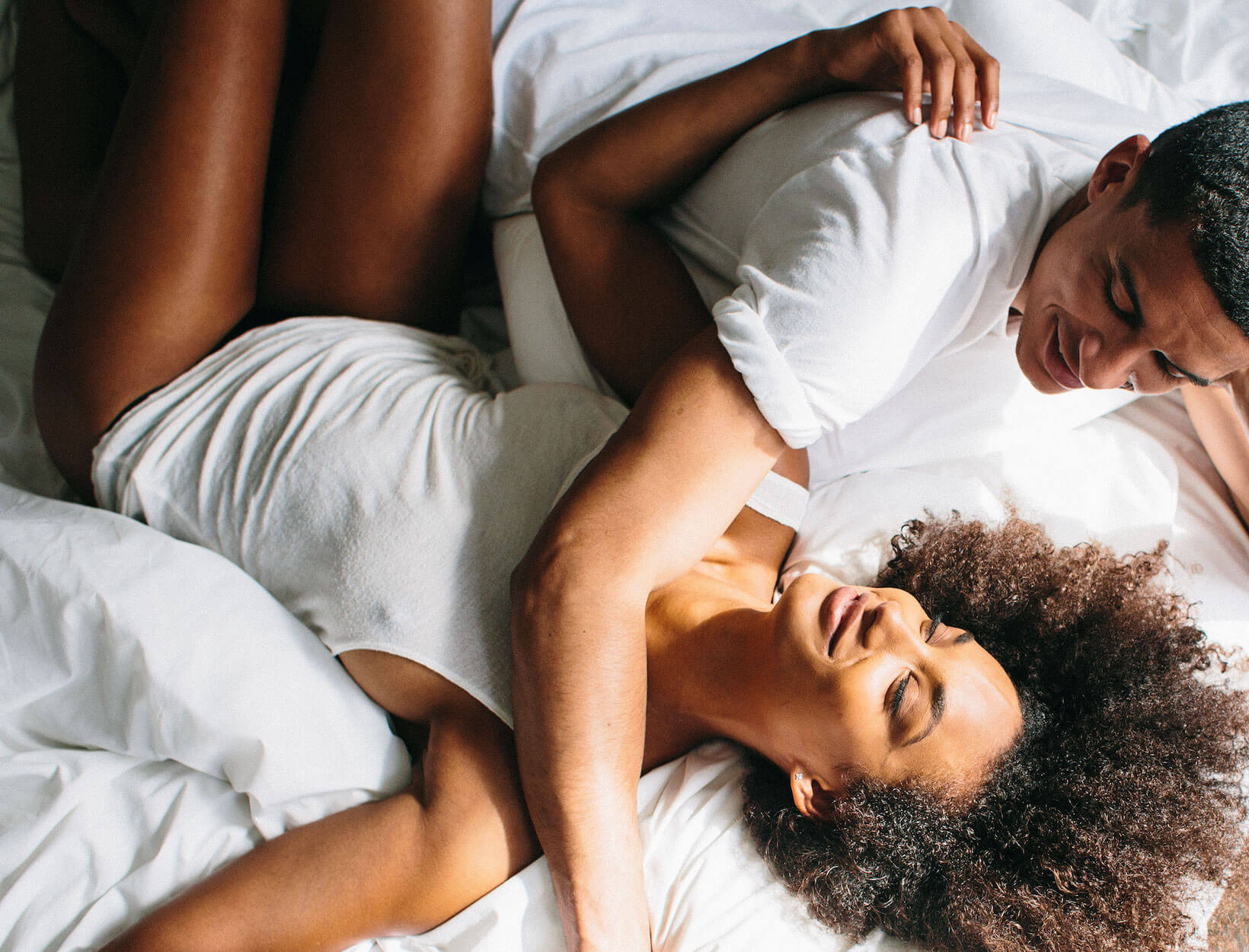 Photo courtesy of Deniz Alaca/The Licensing Project
We're craving sexy, playful, hedonistically indulgent adventures right now, and whether that's a full-on date night or living it up solo, we're staying in for it. On the menu: easy massage, a bath that all but stops time, and multiple orgasms (as in the bestselling candle—and the real thing, too, of course). Everything below is designed to rouse the senses, leave your whole being glowing (there's a new exfoliating miracle for instantly luminous skin, an easy hair trick for all textures, and a vibrator that works miracles), and truly get you in the mood to make the whole night feel more intimate.
1
Massage and moisturize
Like sex, massage can pull you into the moment like few other activities (when the latter is a segue to the former—the best). There's no wrong way to do it, either: For a great massage, for yourself or a partner, simply do what feels good and smooth on a nourishing moisturizer as you go from head to toe, giving every area in between some love.
To take it to the next level, incorporate an infrared mat; the radiating heat feels sublime.
2
Get specific
Here are little forms of upkeep some of us do at home that can make a big difference in how we move through the day and interact intimately.
PUBIC OIL

Smooth on this essential oil blend for pubic hair before waxing or shaving to soothe skin and ingrowns. If your vibe is more bush than bare, work it in periodically to soften and add luster to hair.

Fur Oil goop, $46

SHOP NOW

BREAST CREAM

Massaging with this gorgeous coconut and peach butter cream feels so, so good.

True Botanicals Boob Cream goop, $48

SHOP NOW

TRIMMER

You don't need water or shaving cream with this cordless trimmer that gives the pubic area, legs, underarms, and anywhere else the closest shave ever.

Fur Trimmer goop, $89

SHOP NOW
3
Trick out your bathtub
Lying in a hot bath already feels like stolen time—you're sequestered from email, texts, and life's many demands. When you go the extra mile and dump in a big bag of pink sandalwood-inflected bath salts or polish your skin with the most heavenly smelling jasmine body scrub as you soak, the simple act of taking a bath feels as deeply indulgent as it gets.
4
Shift the mood with candles (and scent)
Our attraction to flame is primal, and the soft glow and gorgeous scent of a clean, essential-oil-based candle is especially alluring. Light a few wherever you are—in the bedroom when you're playing massage therapist, in the bath so you can watch the mesmerizing flicker from the tub, or all over the living room for a sexy-loungy atmosphere.
The blend of Turkish rose absolute, tart grapefruit, and neroli is utterly addictive, and the chic black container makes it even sexier.

goop x Heretic This Smells Like My Orgasm Candle goop, $75

SHOP NOW

Sexy, romantic, and beautifully skin-nourishing, this is a jojoba-and-baobab-oil candle and a gorgeous massage oil in one.

Neom Organics Perfect Night's Sleep Intensive Skin Treatment Candle goop, $46

SHOP NOW

This limited-edition coconut milk, vanilla, and rose candle makes a statement and supports reproductive freedom and equal rights—$25 from the sale of each one goes to the ACLU Foundation's Reproductive Freedom Project.*

goop x Heretic Hands Off My Vagina Candle goop, $75

SHOP NOW
5
Wake up your skin in four steps
Look instantly glowier, more sculpted, and practically poreless with these fast-acting skin secret weapons, used in succession.
6
Whip up the prettiest bedhead
(before you even make it to the bedroom)
Casually undone, soft, healthy-looking hair is just about the sexiest look of all time—and the easiest. Smooth in a restorative oil or cream and fluff out your lengths with your fingers.
STYLING CREAM

A multitasking styling cream, mask, and conditioner in one that leaves hair silky, shiny, and beautifully textured.

Sangre de Fruta Botanical Hair Elixir goop, $96

SHOP NOW

HAIR OIL

This brilliant castor oil smooths frizz and flyaways, expertly retouches days-old hair, and doubles as body moisturizer.

Kreyol Essence Haitian Black Castor Oil Light goop, $50

SHOP NOW

EASIEST (BARDOT-ISH) HAIRPIN

For topknots, chignons, or any chicly mussed updo (for any hair texture).

Deborah Pagani Large Sleek Hairpin goop, $90

SHOP NOW
7
Look (sexily) not-so-made-up
A hint of pigment and a dab of iridescence refreshes your skin, takes seconds to put on, and makes you feel as sparkly as you look.
For a subtly polished look: tinted balmy gloss in Garçonne (the chicest dusty rose) and a bestselling, ultra-inky mascara.

Westman Atelier Clean Start Beauty Essentials goop, $82

SHOP NOW

The teensiest dot of this face-oil-meets-foundation deeply moisturizes and softens the look of blemishes.

Kosas Tinted Face Oil goop, $42

SHOP NOW

Dab this over cheekbones, along the bridge of your nose, or across your collarbones for a fun dewy sheen.

Ami Cole Light Catching Highlighter goop, $22

SHOP NOW
8
Have some fun
Giving yourself or someone else a reality-bending orgasm is one of life's purest pleasures.
Curved at the perfect angle and self-heating. Enough said.

goop Wellness Ultraplush Self-Heating G-Spot Vibrator goop, $89

SHOP NOW

You get a rabbit-shaped vibrator with ten vibration patterns for the vulva and a vibrating penis ring that nestles between partners during penetrative sex.

We-Vibe Date Night Set goop, $199

SHOP NOW

This soothing water-based lube is supercharged with aloe and chamomile and adds the perfect amount of slip.

Personal Fav Whet Plant-Based Sex Serum goop, $24

SHOP NOW
EXTRA CREDIT
Any form of exercise makes us feel more alive, but there's truly nothing like a few vinyasas and crow poses to get the blood moving, stop the mind from ruminating, and noticeably glowify skin. And—again, it might be just us—we always emerge from yoga just plain liking our bodies better. This mat is made from cushiony, grippy natural rubber, so slipping isn't a thing as you flow.
*Donations will be made on each candle sold until the candle sells out or July 1, 2022, whichever occurs first, and are not deductible to purchasers.